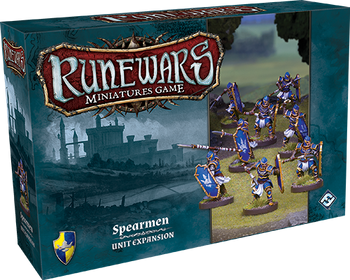 When the fires of war threaten the land of Terrinoth, the rank-and-file of Daqan form a mighty bulwark to protect their homes, and the spearman rise to the challenge of keeping their lands safe.
The Spearmen Unit Expansion comes with eight Spearmen plastic figures and two plastic infantry movement trays to expand your Daqan army. Five additional upgrade cards for any army will give you the tools you need to push back any force.
Make the enemies of Daqan fear its might with the Spearmen Unit Expansion.
Upgrades
Edit
Ad blocker interference detected!
Wikia is a free-to-use site that makes money from advertising. We have a modified experience for viewers using ad blockers

Wikia is not accessible if you've made further modifications. Remove the custom ad blocker rule(s) and the page will load as expected.