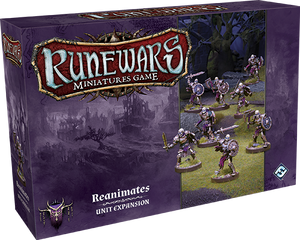 Though each reanimate is but a fraction of the being they were when they followed Waiqar in life, the legion of skeletal
warriors strike fear into the hearts of those that would stand against them. An unquenchable spite and loyalty to the dread Waiqar the Undying drive the legion to destroy anything in their path.
Expand your ranks of the undead with the Reanimates Unit Expansion. Featuring eight reanimate plastic figures in four different sculpts, the expansion contains everything you need to add one Reanimates unit to your own army. Overrun your opponents with an undead legion and raise your dead with the Reanimates Unit Expansion.
Upgrades
Edit
Ad blocker interference detected!
Wikia is a free-to-use site that makes money from advertising. We have a modified experience for viewers using ad blockers

Wikia is not accessible if you've made further modifications. Remove the custom ad blocker rule(s) and the page will load as expected.