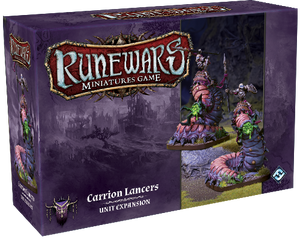 The massive Carrion Worms that follow the armies of Waiqar the undying are not easily tamed, but those that are
prove to be valuable assets for the carrion worm masters on the field of battle. Carrion Worms are swift for their size and inspire fear in the heartiest of Waiqar's enemies.
The Carrion Lancers Unit Expansion features two Carrion Lancer Plastic Figures, one new and one identical to the core set, to expand your legions of the undead. The expansion also features eight new upgrade cards to improve your armies and crush your enemies underfoot.
Upgrades
Edit
Ad blocker interference detected!
Wikia is a free-to-use site that makes money from advertising. We have a modified experience for viewers using ad blockers

Wikia is not accessible if you've made further modifications. Remove the custom ad blocker rule(s) and the page will load as expected.