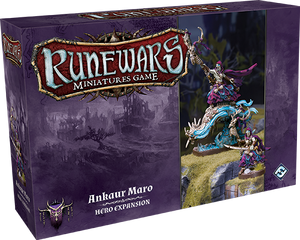 Few names inspire fear in the citizens of Terrinoth like Ankaur Maro. As a young wizard studying at the Universities of
Greyhaven, he quickly became known for his great skill and even greater ambition. This drive and disregard for boundares in pursuit of power became his undoing,  Ankaur Maro was expelled from Greyhaven and disgraced. Not one to be deterred, Maro soon found himself in the inner circle of dark sorcerers, where he learned the secrets of flesh and blood and bone and death. Maro has found a new home in the service of Waiqar the Undying, his powerful dark magic a beacon of strength for the undying legion.
The Ankaur Maro Hero Expansion comes with two Ankaur Maro figures for the Waiqar in the form of cavalry and infantry versions, as well as six upgrade cards, four for use with any army and two exclusively for Ankaur Maro.
Seek ultimate power, raise the dead and overwhelm your opponent with mystic arts with the Ankaur Maro Hero Expansion.
Ankaur Maro (foot)
Ankaur Maro (mounted)
Upgrades
Edit
Other Cards
Edit
Ad blocker interference detected!
Wikia is a free-to-use site that makes money from advertising. We have a modified experience for viewers using ad blockers

Wikia is not accessible if you've made further modifications. Remove the custom ad blocker rule(s) and the page will load as expected.